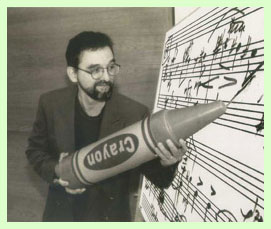 I was born in Spain, of Russian and German descent. My family emigrated to Cleveland, Ohio, when I was a child. Years later I received my Master's from the Cleveland Institute of Music, not far from where I grew up. Completing my degree there, I packed up all my belongings and headed West in a U-Haul towed by a Toyota: I got my Ph.D. in Composition from the University of California, San Diego.

While at UCSD I was awarded grants from UC Regents and the American Music Center for the performance of my Concerto for Trumpet and Orchestra, "Desert Flowers." In 1983 I won the CalArts Young Composers Contest with my piece, "Splinters of a Shattered Space," Five Frames for Cello and Piano which was subsequently performed at the CalArts Contemporary Music Festival. In 1989 I received a National Endowment of the Humanities fellowship to study Jazz at Yale University.

Years pass: I write, I teach, I learn.

Recently I returned from the UK where Gerard Schwarz conducted the Royal Liverpool Orchestra in another work to be released on the MMC label. Currently I am Professor of Music at San Diego Mesa College. In my spare time I play in the La Jolla Symphony and am a founding member of the performance art group touch me hear, exploring the boundaries between music, art, drama, technology, performance and audience participation.